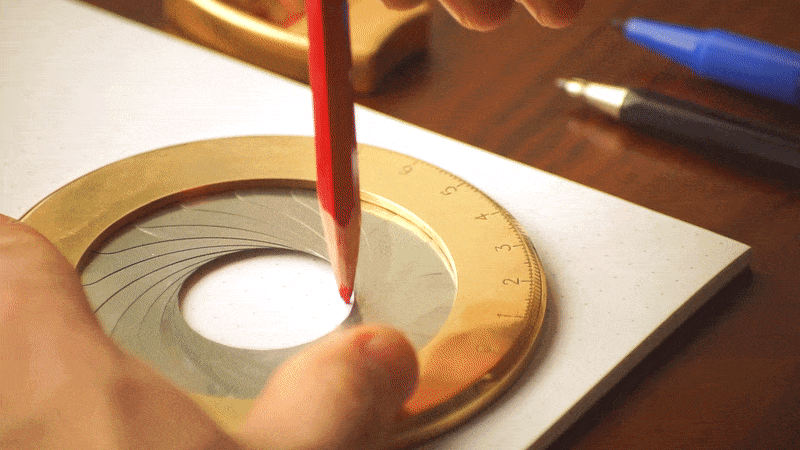 This is a completely redesigned tool for drawing and measuring perfect circles. Simply rotate the rings to open and close its captivating aperture mechanism. It will inspire you with every stroke of your pencil.?
At Makers Cabinet, we believe that drawing and writing tools should guide the path towards creativity rather than limit its potential. Instead of being a burdening generic tool the Iris is intuitive and unique.?
We aim to inspire everybody that uses the Iris with a sense of satisfaction. Its mesmerising mechanism sparks delight in everyone that sees it open and close. We believe that Iris helps rejuvenate the flow of creativity at moments of mental block.
The concept of the Iris came from conversations with our community. Our supporters said that circle drawing tools lacked innovation and were difficult to use. These tools were unreliable and short-lived. So, we set out to completely redesign the circle drawing tool.
As amateur photographers, we noticed that camera apertures were reliable mechanisms and were surprised that they had not yet been developed for other purposes. In response to this observation, we designed an instrument that brings the quality of the camera aperture to your desk.
The mechanism of the camera aperture has endured 200 years of photographic history. Owing to this resilience, the Iris is the perfect replacement to the inadequate rotary drawing compass.
Rotary compasses are:
Difficult to hold
Useless without a ruler
Restricted to certain mark-making tools
Immortalised by the holes in our pages
This is:
Easy to use
Compatible with any mark-making tool
An accurate measuring instrument
Seamless on your page
SIZE:The diameter is 5.0 in / 12.5 cm.
AVAILABLE SACLE:0.4 to 3.0 in / 1.0 to 7.5 cm.
PACKAGE INCLUDES:1 x Round Rotatable Compass Drawing Ruler.
At Makers Cabinet, we strive to create objects with a guarantee of longevity and durability. Iris is the product of this ethos.
Iris is engineered using the most durable and effective materials. Its rings are machined from solid brass that patinas, improving with time and use. The leaves are resistant to ink and graphite as they are stamped from carefully selected stainless spring steel that retains its shape. The Iris houses twenty intricately designed leaves that enable you to create accurate circles with every stroke of your pencil.
The Iris is a reliable measuring instrument. In conversations with our users, we were inspired to add a scale along the side of the circle aperture. This allows you to effortlessly draw circles and measure diameters. The scale is marked with a high fidelity laser etching that denotes accuracy down to a millimetre.
Reminiscent of a camera¡¯s aperture enclosure, its scale is marked with a red dot. This allows you to read the diameter of your circle without the impediment of any other tool. Below the Iris¡¯ leaves sits a natural rubber footprint that seamlessly grips to your page. This means that all your focus can be on the circles you are drawing and not the instrument that you are using.
Our first wooden base prototype was intended to simply support the Iris on your desk. However, at Makers Cabinet, we design every tool with the intention to be both beautiful and functional. 
Accordingly, our updated base locates the centre-point of a circle. To achieve this, simply lay the Iris flat on your surface and place the base against the inside of the aperture. The flat edges point to?the centre of the circle, taking your drawings to the next level.